Extermination Services
We are the experts!
Professional Exterminator
Guet-Apens Extermination offers a complete range of extermination services, including extermination of ants and mice, as well as extermination of bed bugs, cockroaches and rats.
To help you avoid a recurrent problem, our approach includes the following :
Evaluation : to identify and locate the source of the problem before intervention.
Free estimate of costs and timelines.
Intervention to eradicate pests : if pesticide becomes necessary, we use it in a very targeted manner and respect the safety of other organisms in the environment. There are various intervention methods, depending on the situation: bait, traps, pulverization, fumigation and spraying.
Control and prevention : strategies provided by our technicians, who will also implement preventative measures to avoid the problem arising in the future.
Guet-Apens Extermination is also a specialist in wall injections.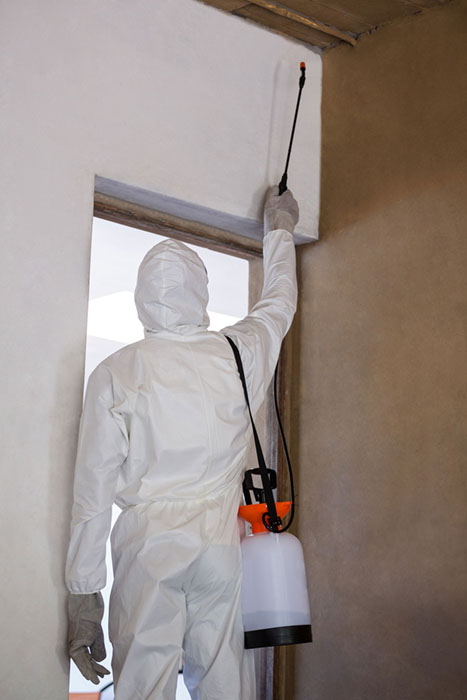 Permits and distinctions: A mark of our professionalism!
Guet-Apens Extermination respects all Environment Canada standards and is highly conscious of people and the environments they live in.
We also possess permits from the Ministère du développement durable, environnement et parcs Québec, and have earned the distinctions below.
C5 : Extermination
Pest Management
Does your company operate in the following industries?
Agri-food, Restaurant, Food distribution, Hotel, Shopping centre, Multi-unit or single-family residential buildings
Guet-Apen's certified technicians can help with pest management and control! Our commercial extermination services will guarantee the impeccable cleanliness of your premises – a must for productive business operations.
In order to continuously improve the quality of our services, all of our employees attend regular training and information sessions to stay updated with the latest industry standards and techniques. We also keep abreast of changes to Environnement Québec's regulations on use of pesticides, which is a major concern in the protection of humans and the environment.
Guet-Apen Extermination also offers effective prevention and treatment strategies that favour the use of non-chemical solutions. If the situation demands the use of pesticides, we do everything possible to minimize the potential impact on people and species that are not targeted.
Our team of specialists regularly run quality control inspections to ensure and maintain the quality of the pest management plan implemented for your company or business.
A 7-step Pest Control program
In order to offer you the best in pest control, Guet-Apen Extermination implements a 7-step program:
01
Home inspection
We inspect all the strategic places in your home, including entries, spaces where food is kept or where water runs, etc.
02
Situation assessment
We also note how many people circulate in the building, as well as how many problem areas may exist.
03
Insect control
With your collaboration, we identify which types of pests are present in order to determine the best treatment options.
04
Custom solutions
Following a complete assessment of the building (age, location, climate, etc.) and interviews with certain employees, we define the best course of action for your situation.
05
Environment monitoring
Pest control also includes creating a daily program that will help maintain the cleanliness and health of your environment.
06
Treatment strategy
Guet-Apens Extermination prefers to work with non-chemical treatments.
07
Maintenance and monitoring
All pests are eradicated and actions documented to ensure success treatment results.
ANONYMOUS VEHICLES
Unidentified vehicles for a discreet presence in your neighborhood.